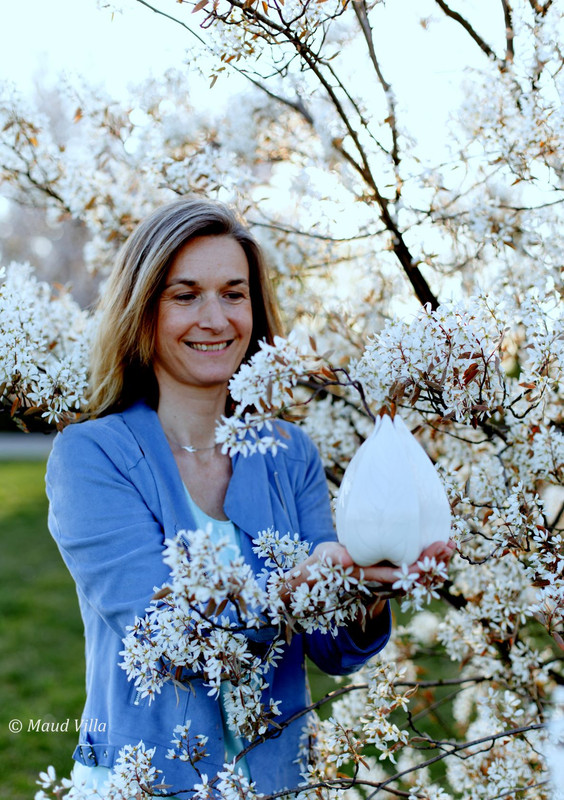 Je m'appelle Stéphanie Dillmann et j'ai grandi en Alsace du Nord, à la croisée de la ligne bleue des Vosges. Entre forêts et champs, j'y ai puisé mon inspiration première : la nature.
Ma curiosité et ma soif de découvertes, m'ont conduite à m'expatrier tout au long de mon parcours professionnel. Pendant plus de 15 ans, j'ai posé mes bagages dans plusieurs pays d'Europe et notamment en Belgique.
Désireuse d'assouvir ma créativité et de me reconnecter à ma sensibilité, je m'initie à la céramique aux académies des Beaux-Arts de Bruxelles.
La céramique prend de plus en plus de place dans ma vie.
Avec SD Ceramic Design, j'exprime ma facette de créatrice sensible.
Je façonne des céramiques contemporaines en grès ou en porcelaine en déclinant des formes épurées et organiques inspirées du végétal. Je superpose des émaux que j'élabore moi-même dans des teintes douces.
Chaque création a une âme et vous invite à vous relier à l'instant présent en insufflant sérénité et douceur.
La terre m'accompagne sur le chemin de mon évolution personnelle.
C'est l'appel vers plus d'authenticité et le retour à la source qui m'ont conduite à revenir en Alsace pour partager ma passion de la céramique.
Je vous partage cet art qui m'est si précieux en vous proposant des créations uniques, apaisantes et ressourçantes, sur mon site internet.
Belle découverte !
Stéphanie
---
My name is Stéphanie Dillmann and I grew up in the northern part of Alsace region, at the crossroads of the blue line of the Vosges mountains. Amongst forests and fields, I was first inspired by nature.

Thirst for curiosity and discovery led me through my career to live as expat for more than 15 years in several European countries including Belgium.

To nourrish creativity and reconnect with my sensitivity, I introduce myself to ceramics at the academies of Fine Arts in Brussels.
Ceramic takes more and more place in my life.

With SD Ceramic Design, I express my sensitive side.
I shape contemporary ceramics in stoneware or porcelain: variations of pure and organic forms inspired by the nature, with overlays of handmade glazes that I develop myself in soft pastel shades.
Each creation has a soul and invites you to connect to the present by infusing serenity and softness.
Clay accompanies me on the path of my personal evolution.

The call to more authenticity and the need to return to the source led me to go back to Alsace in France to share my passion for ceramic.
I share with you this art that is so precious with proposing unique, peaceful and rejunevating creations on my website.
Have a nice discovery!
Stéphanie